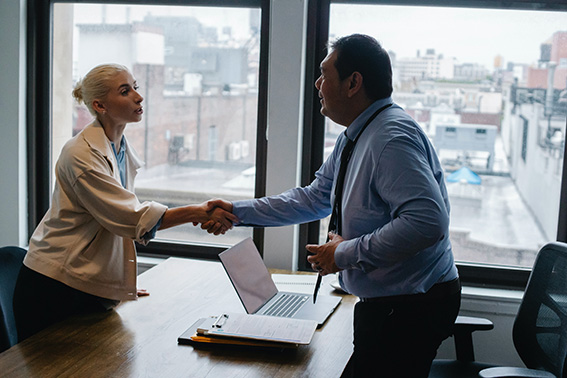 Most people fear feedback, no one likes to be criticized. We covered this topic in a recent article, which you can revisit here. Another common fear is giving feedback to the boss. The authority of the manager can affect the quality of feedback. Fortunately, there are a number of practical solutions to overcome this fear and facilitate feedback communication.
A good communication culture relies on the feedback processes within the organization and is a key indicator of the company's health. In addition to the distinctions between the different types of feedback, highlighted in our blog, there is another one worth talking about – the distinction between the feedback given to a candidate and the one offered to an employee.
There is a thin line between these two statutes – "candidate" and "employee". Obviously, feedback is valuable whichever side of the line the person is on, but the managers' approach is different. They don't always care to give feedback to a candidate who hasn't passed the tests, seeing it as a waste of time since that person won't be part of the organization anyway. Therefore, in almost all cases, rejected candidates do not receive any kind of justification for the refusal, being left in a state of self-doubt, which can deepen their insecurity and affect their career path. And that's not all, because the image of the company can also be affected, if the manager does not have a suitable attitude towards the rejected candidate.
Starting from the main differences between a candidate and an employee, we will lay out some arguments in favor of providing feedback to both candidates and employees, hoping that this will inspire and encourage an organizational culture where feedback flows in all directions.
First of all, a distinction must be draw between "applicant" and "candidate". While the applicant is a job seeker, applying for a specific position within a company, the candidate has passed the first pre-selection, stood out from the crowd of applicants and his chance to get the job is higher. He has already been subjected to selection methods, which may include, but are not limited to, preliminary screening, telephone interviews, face-to-face meetings. By virtue of his qualifications, the candidate is now shortlisted, competing against other candidates with similar skills.
Secondly, we will not insist on the obvious difference between "candidate" and "employee", but we will draw a parallel between the ways in which feedback is given to candidates, on the one hand, and to employees, on the other. Although there are clear differences, there are also general considerations common to the two types of feedback. Thus, to be productive, feedback must be:
honest but kind;
constructive, focused on achievable improvements;
actionable, targeting technical rather than interpersonal skills;
based on specific examples;
free from comparisons with other people;
balanced, between criticism and appreciation;
communicated as quickly as possible.
Starting from the differences in the status of the candidate and the employee, here are some practical suggestions that we've gathered for you.
How to provide feedback to candidates?
Communicate feedback promptly
If possible, provide the candidate with the opportunity for a face-to-face or virtual discussion
Thank the candidate for his/her time
Reassure him/her that the feedback is intended to be helpful, even if he/she didn't get the job
Underline and appreciate the positive things
Emphasize the competitiveness of the role
Give him/her some insights into the decision-making process
Leave room for questions
Ask him/her, in turn, about the interview experience
Ask for the consent to be kept in the database for potential further collaboration opportunities
How to provide feedback to employees?
Provide continuous feedback
Make time for 1:1 meetings
Thank the employee for the efforts made until the evaluation
Reassure him/her that the feedback is intended to be helpful going forward, even if he/she didn't meet all goals
Appreciate the positives and point out specifically the areas that can be improved
Ask about pain points and roadblocks and how you can help overcome them
Emphasize the importance of his/her role and contribution
Leave room for questions
Ask, in turn, how can you support him/her more effectively
Agree on new goals
How candidates, employees and managers relate to feedback often determines their professional success or failure. To encourage constant feedback and ensure effective channels, Co-Factor has developed an innovative digital platform, which, through its functionalities, facilitates the flow of feedback. This tool is available in the Internal Communication Module, but especially in the Performance Management Module, where feedback sessions can be activated within the individual performance plans for employees.
With the software developed by Co-Factor, employee engagement and performance can be increased and measured, all types of feedback can be encouraged and monitored, a specific strategy can be created to support employees to perform, organizational culture can be promoted and employee results can be measured, giving a clear picture of employee morale, engagement and performance.