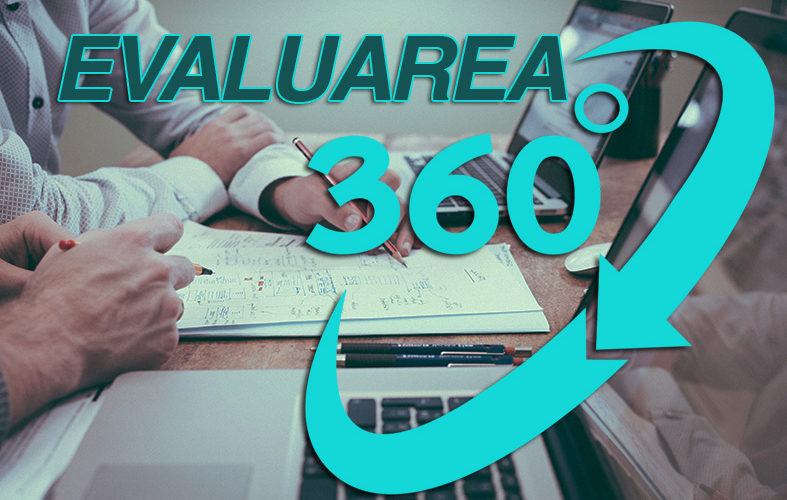 Reviews are a critical part of any effective performance management strategy and an important part of overall performance measurement system, as organizations of all kind strive to evaluate and guide their employees toward constant improvement. But a standard performance review system is often found wanting, and while traditional performance reviews — which allow supervisors to provide feedback to their direct reports — can be helpful, gathering feedback from multiple sources at different levels of the organization can be an even more effective approach to employee development. That's why more and more companies are integrating a technique called 360-degree feedback into their review process.
360-degree feedback is a method and a tool that provides each employee the opportunity to receive performance feedback from all directions, from the supervisor or manager and up to eight peers, reporting staff members, and coworkers. This typically includes upward feedback from their direct reports, peer feedback from those they work closely with, and downward feedback from their manager. Most 360-degree feedback tools are also responded to by each individual in a self-assessment.
Usually anonymous, this kind of feedback provides, among others, valuable insight into the skills and behaviors desired in the organization to accomplish the mission, vision, and goals and live the values.
What are benefits of 360 reviews?
There's no doubt that 360 reviews are an excellent way to gather feedback from stakeholders at all levels of an organization, and leverage that feedback to drive performance, development, and growth for individuals and teams. But, in order to be effective, 360-degree reviews need the right participants, the right tools and the right method. When all these conditions are fulfilled, 360 reviews brings up o lot of benefits for employees, teams, managers and organization, as a whole. Here's some of the benefits 360 reviews could bring to your organization:
It provides better, more well-rounded, and more diverse feedback.
It helps identify developmental needs — both at an individual and organizational level.
It makes managers better. By giving employees a safe place to provide upward feedback to their managers, 360 reviews keep leaders accountable for their management decisions and impact, and deliver the insights they need to better manage their teams.
It builds trust, as employees are more trusting of 360-degree feedback. Some people struggle to deliver feedback face-to-face, particularly if the feedback is challenging. This can lead employees to question the honesty of the feedback they receive during the traditional review process.
It develops and strengthens teamwork and accountability.
It uncovers procedural issues that can hinder employee growth.
It reveals specific career development areas.
It supplies insight on training needs.
What are the right questions to ask in a 360-degree review?
In order to give efficient and helpful 360-degree feedback — and gain actionable information for the employee and valuable insights for the company — one must begin by asking the right questions and by keeping the goal in mind.
If you're using a 360-degree review to evaluate employee performance, you'll want to opt for a universal set of questions that apply to every employee at a specific job level or managerial role, so you can accurately rate employees, establish a performance benchmark, and compare competencies and skills.
If you're using 360-degree feedback purely for employee development, you have the freedom to cater questions to each individual. For example, you might include questions on leadership, communication, and strategy for employees in leadership roles, while you might focus more on time management, collaboration, and technical skills for an individual contributor, since they aren't responsible for leading a team. You can also tailor questions toward a specific employee's well-known strengths and weaknesses, but try to include other questions so both you and your employee can gain a comprehensive view of all aspects of their performance.
Most companies opt for using a mix of open and closed-ended questions, in order to provide both qualitative data and quantitative insights into an employee's performance.
Here's some closed-ended 360-degree review sample questions
This person prioritizes their workload effectively and meets deadlines.
This person communicates clearly and effectively with me and other colleagues.
This person exhibits strong leadership skills.
This person has strong interpersonal skills and helps everyone feel welcome on the team.
This person is always timely and efficient at providing feedback.
This person prioritizes teamwork above all else.
This person always finds creative solutions and takes initiative when problem-solving.
This employee is always open to receiving both negative and positive feedback.
This person strongly embodies our company values.
This person values diverse perspectives, even if they are different from their own.
Here's some open-ended 360-degree review sample questions
What would you say are this employee's strengths?
What is one thing this employee should start doing?
What is one thing this employee should continue doing?
What is one thing this employee should stop doing?
How well does this person manage their time and workload?
Share an example of a company value this person has brought to life.
What are three or four words you would use to describe this employee?
[For a leadership role] If you were this leader, what would be the first action you would take?
How well does this person adapt to changing priorities?
What's an area you'd like to see this person improve?
Through its innovative digital platform, Co-Factor simplifies the 360-degree review process by making it easy for stakeholders at all levels of the organization to deliver feedback in real time. It also adapts to fit your organization's performance management model, streamlining the review process whether you deliver reviews on an annual, mid-year, quarterly, or ongoing basis.
Co-Factor facilitates the operationalization of all evaluation procedures, available in the Performance Management Module, where feedback sessions can be activated within individual performance plans.
With the software developed by Co-Factor, the degree of employee engagement and performance can be increased and measured, all types of feedback can be encouraged and monitored, a specific strategy can be created to support employees to perform, organizational culture can be promoted and employee results can be measured, thus obtaining a clear picture of employee spirit, engagement and performance.