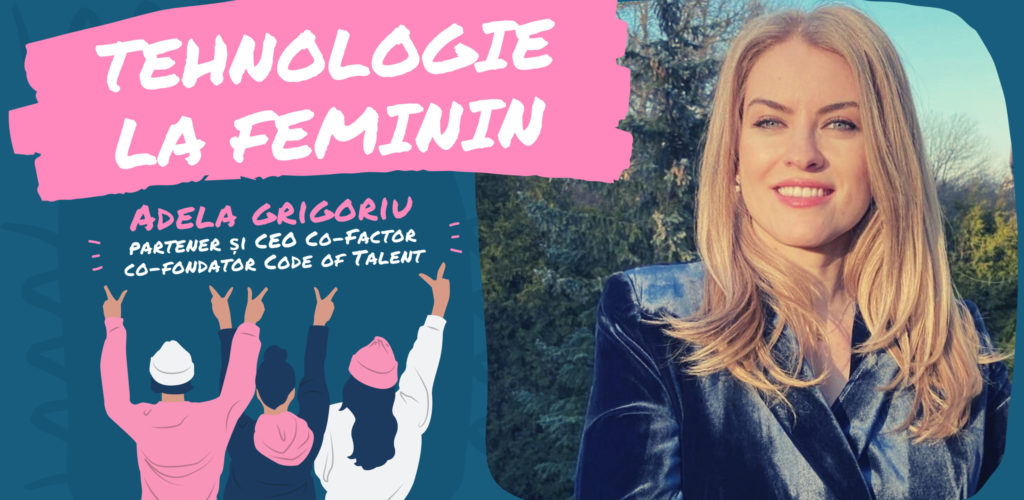 The International Women's Day, recently celebrated, gave us the most natural opportunity to talk about technology for women. In March, we offer you a series of interviews with the women behind Co-Factor technology. We open this series with Adela Grigoriu, partner and CEO of Co-Factor, but also co-founder of Code of Talent.
Adela "vitaminizes" IT with Vitamin E. She brings empathy, balance, energy and enthusiasm to the office every day. The quality of "partner" describes her best! Adela is not just a colleague, manager, consultant - although she successfully fulfills all these functions, she is a true working, discussion, business partner. IT is more alive and friendlier since Adela dedicated her career to this field. I asked her a few questions to get to know her better and to understand the roles a woman can play successfully in IT.
What do you like to do, besides technology?
I am attracted to aesthetics, to beauty in any form. I am very interested in the avant-garde trends. Museums have a special magnetism for me, each work of art, in general, incites my imagination, I seek to unravel the mystery that artists "encode" with so much inspiration. I also like to read and travel, activities that give me the opportunity to live intensely the lives of other real or imaginary characters and, at the same time, they always make me discover new things. I practice yoga and Pilates, because it helps me boost my energy, and the collection of shoes makes me feel even more feminine😀.

In your opinion, what do women bring to tech? What do you consider to be your personal contribution?
I think women are as essential in technology as any other field. We all know that feminine intuition is irreplaceable, regardless of the field, and it goes along very well with the masculine rational (not that we are not rational). Girls are also good programmers and QA testers and team leaders and project managers. When they decide to perform, they do it at the highest level and they are able to excel in any role and in any field.
My personal contribution is to bring balance, as a team leader, to give people confidence, to keep the team united, to insist on the look and feel of our application, as well as to encourage the integration of what we call human touch in our tech solution.
Moreover, as a Tech consultant, I send the client's needs to the technical team, in a way that can be more easily translated into code. I am, in turn, the client's lawyer, when a request seems mission impossible, but also the team's lawyer, when we have to say "no" to our partners, which, fortunately, happens extremely rarely.
I am a person who loves people and I encourage interaction as much as possible, considering that it is an essential element, including for the hygiene of professional relationships.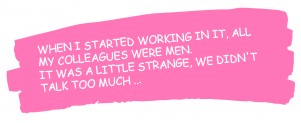 How does it feel working in an industry that is male dominant?
In fact, I feel really good! I think being a woman in an industry like this can only benefit everyone. Women bring an important value, the empathy which, strange as it may sound, pairs with technology, they complement each other.
When I started working in IT, ten years ago, all my colleagues were men. It was a little strange, we didn't talk too much... Then I decided to be more open and communicate first. Slowly, they started to react differently, to ask for my opinion and to be more open to the idea of having more girls in the team.
Have you ever encountered gender bias in your job?
Unfortunately yes. However, people with prejudices make any selection easier, whether it is a new partner or a new colleague. They exclude themselves.
Do you have any advice for women who want to work in tech, but hesitate?
To insist on convincing employers that they deserve a chance, not to accept half measures, to have self confidence, to trust their education and their intuition. They deserve the best!