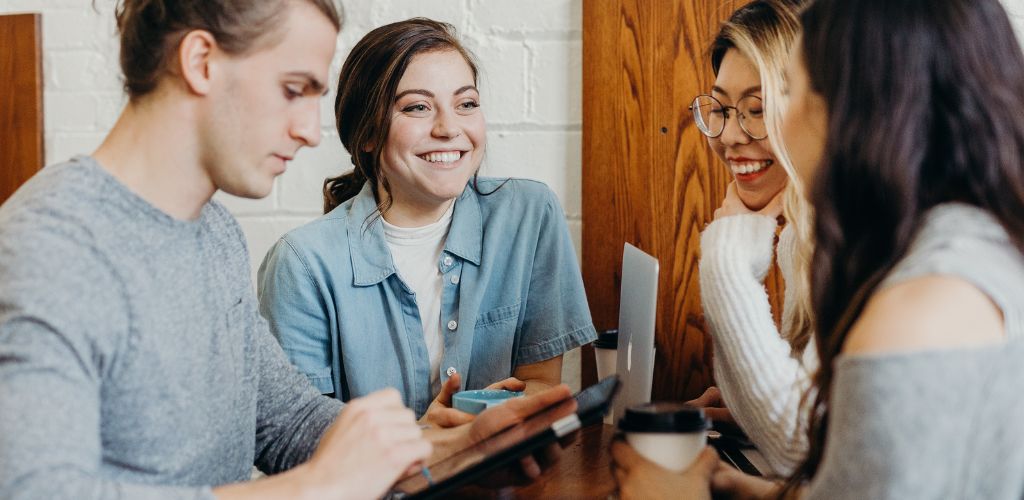 Unless you like talking to a wall, when it comes to sending out messages of all sort to your employees – company updates, new policies, changes in business strategy, success stories – you may want them to actually read it. Unfortunatelly, they most probably won't.
Internal communication is one of the most important organizational pillars. But even the best internal communications strategy doesn't work if your employees don't read your messages. We know managers spend a lot of time and energy trying to build better professional relashionship with their teams, based on meaningful communication. It is absolutely normal to get frustrated when you are not heard, when your messages are not read. But, instead of getting upset and taking it personally, a good manager should solve the problem professionally.
First of all, don't blame the employees. They are often overloaded and continually bombarded with tones of messages. The digital noise from all directions disturbs them at work. Having to deal with their own job related tasks, it is almost impossible to read everything the company sends. So they started to treat all corporate communication as junk messages, ignoring it, which could lead to bigger issues because something important could be missed.
"If they don't read it anyway, why bother?" you may ask yourself. Don't let yourself be drawn into this vicious circle. It may lead to the end of the internal communication, and everybody knows that where there is no communication, there is nothing. You better make sure that your messages are read. And to be read, your messages should check some basic rules.
We've compiled the most important of them in two memorable rules, that you can recall anytime you have to conceive an announcement for the employees: the KISS rule and the MISS rule. KISS and MISS are acronyms that stand for "Keep It Simple & Short" and, respectively for "Make It Sweet & Strong". Of course, this is a gimmick of ours to help you increase your chances to remember the serious rules behind every letter. It may seem naive but it is very efficient, and you will convince yourself of this as you put them into practice. Let's to take them one by one and dive deeper to see what these rules entail.
The KISS rule of internal communication
As previously revealed, KISS stands for "Keep It Simple & Short". Two main concepts are targeted by this rule – jargon-spewing and attention span. We'll address each of them below to understand their importance.
However inconceivable it may seem to managers, 87.4% of employees working in companies are confused by the business jargon and find it very tiring. They won't verbalise it, it wouldn't be good for their image, of course. But surveys say it for them – people don't actually like to communicate using those complicated and sometimes meaningless robotic terminology. So, as a general rule, try hard to keep your message as simple as possible, use normal, human phrases, and drop the corporate speak.
Furthermore, try even harder to keep the message short. Human attention span has decreased to 8.25 seconds. That's below the average attention of a goldfish (9 seconds). So refrain from any unnecessary content and think economy of words. You should also avoid clichés, long sentences or especially long words, and use the active voice.
The MISS rule of internal communication
The MISS rule ("Make It Sweet & Strong") aims to make your content more attractive and more relevant, as we all know that irrelevant newsletters or notifications are going to be trashed.
But no matter how relevant a message is for the audience, first of all you have to pay attention to make it sweet. And by sweet we mean creative, good looking, catchy. Of course, sometimes, the message you have to send is "boring" by nature. But, you can still spruce it up. Here's how:
Nail the title! The headline jumps out at the readers to draw their attention, so take extra time to make it catchy.
Use the power of suspense! Use an opening line to make the audience curious. Phrases like "Guess what…" or "Did you know…" always work.
Create an interactive experience! You may include a contest, a trivia a poll within your communication, to boost readers' engagement.
Design matters! A lot. Carefully choose your template, formatting, font and any other elements that contribute to the first impression.
Use images! Photos and videos are eye-catching and entertaining. It will break the content and ease the reading.
Last but not least, make sure that you are tailoring relevant content to the audience who need to hear it and consider the impact the message will have on the reader. No one likes to get irrelevant emails or other types of notifications. Send the right message, to the right people, at the right time. To do that, you should personalise the message, considering the department you are talking to, the specific job titles, the employee's names, the tone of voice, etc. And never forget to explain the "what's in it for me?" Communicate the value for the employee upfront. It will pique their interest and get them to read on.
A good internal communications lays in its details. Remembering these details becomes easier than ever with the KISS and MISS rules we've tried to compile for you. Moreover, Co-Factor facilitates the smooth running of Internal Communication process, as well as of all other organizational processes, through an innovative digital platform that embeds communication within the three main organizational pillars – Employee Engagement, Performance Management and Internal Communication. Co-Factor platform also offers the Mobile App experience, facilitating real-time, transparent and structured communication. Communication can differ depending on the type of post. For example, current communications posts differ from open jobs posts, from event announcements, etc. Regardless of the type of communication, authors can decide whether to notify all users or only a group of them, so that the established audience does not miss reading the messages. At the same time, the notifications can be categorized as "important", "urgent", "interesting" etc. In addition to these aspects, in the Internal Communication module, the platform provides a functionality widely used by Co-Factor customers, namely, non-financial appreciation/recognition.