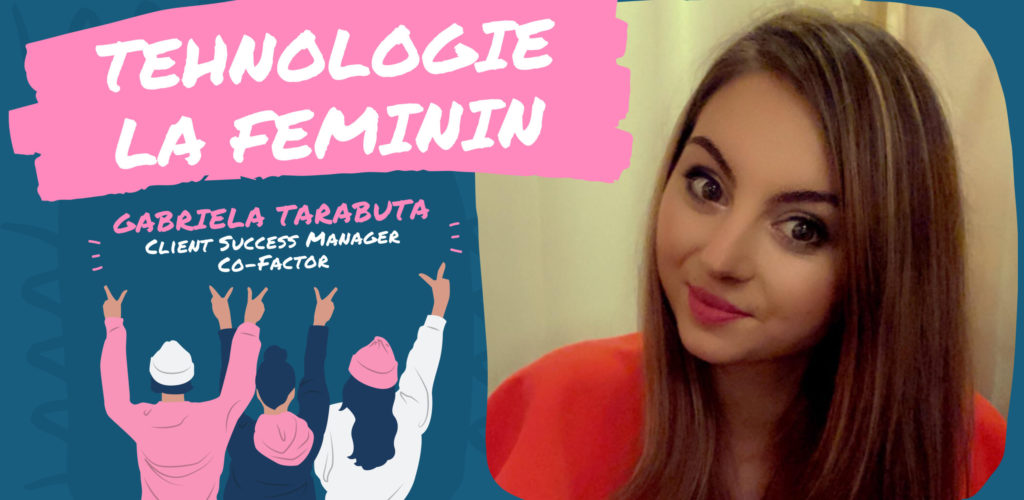 We move on to the series of interviews dedicated to women working in tech. Today's guest, Gabriela Tărăbuță, Client Success Manager at Co-Factor, is fond of reading and talking about the books she reads, she finds cooking, drawing or walking with her puppy, Dolly very relaxing. In her personal life, she prefers comfort, but at work, she always tries to get out of the comfort zone, just the opposite. She loves brainstorming sessions, which "take us all out of our comfort zone and we end up sharing things we wouldn't normally get to", as she says.
Adela "vitaminizes" IT with Vitamin E. She brings empathy, balance, energy and enthusiasm to the office every day. The quality of "partner" describes her best! Adela is not just a colleague, manager, consultant - although she successfully fulfills all these functions, she is a true working, discussion, business partner. IT is more alive and friendlier since Adela dedicated her career to this field. I asked her a few questions to get to know her better and to understand the roles a woman can play successfully in IT.
In your opinion, what do women bring to tech? What do you consider to be your personal contribution?
I believe that a group, a community, an organization has only benefits from the gender mix. Both women and men have something very important to bring in all situations: a different point of view.
My personal contribution to the team I belong to is the love I have for the word, my ease in communicating with people. I communicate, my colleagues translate this specifically human communication into technical communication: something that moves and has buttons. Easy peasy 😁


How does it feel working in an industry that is male dominant?
I worked in two tech organizations and none of them made me feel that it was a dominant male world. Even when, numerically speaking, I had more male colleagues than female colleagues, it didn't feel as a disadvantage or discomfort.
Have you ever encountered gender bias in your job?
Hardly and I think I could run into them in another area, just as well (or worse).
There have been some situations in which clients did not consider, at first sight, that I presented credibility, just because I was young and I was a woman. This was easily and quickly dismantled as the conversation began. But these are very isolated situations.

Do you have any advice for women who want to work in tech, but hesitate?
Neither tech, nor other field must be of the female or male gender. Whether you are a woman or a man, you can practice wherever you want and you must not be influenced by gender bias. Human values, skills, know-how and perseverance, the desire to progress are more important than gender.
So my message would be: You want to work in tech? Go for it! ☺