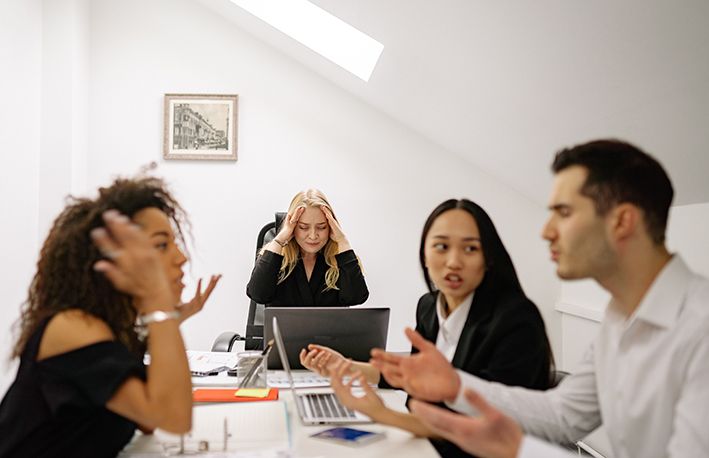 Organizational culture plays a vital role in the success of each employee, but also of the company as a whole. Organizational success or failure depends on it. In an organization with a strong and healthy culture, people feel connected to its mission and values, which will have a positive impact on overall performance. Conversely, a toxic organizational culture can negatively affect employee well-being, productivity, and company profitability.
How does organizational culture affect employee and company success?
Organizational culture is not just an abstract concept, a corporate term, but represents the environment in which performance can occur and develop, or, on the contrary, can hinder it. The degree of health or toxicity of this environment is directly reflected in the numbers behind the well-being of employees and the organization. In over ten years of experience, we have identified three major levels that organizational culture determines – 1. the way employees interact, 2. the level of engagement and loyalty, and 3. the level of job satisfaction.
First, organizational culture influences the way employees interact with each other and with customers. A strong culture promotes a positive and collaborative approach, which leads to increased employee productivity and customer satisfaction. On the other hand, a toxic culture generates unproductive, conflictual behaviors and even a decrease in customer satisfaction.
Second, organizational culture can affect the level of employee engagement and loyalty to the company. When employees feel at ease in a company, they are more likely to stay there long-term and contribute to the success of the organization. In addition, a strong culture attracts and retains talent.
Finally, organizational culture can influence the level of satisfaction and happiness of employees. When a company promotes the values and principles that matter most to people, they feel valued and appreciated, which has a positive impact, including on employees' personal lives.
But what does a healthy culture mean?
In general, a healthy organizational culture promotes values and principles that are important to employees, creates a positive and supportive work environment, and provides opportunities for personal and professional development of employees. These are some essential elements for a productive and successful work environment. Of course, this desirable type of culture is characterized by a broader set of traits and practices that promote employee and company well-being and success. In general, healthy culture can be identified by the following characteristics:
1. Strong values and principles: Strong values and sound ethical principles guide the behaviors in the company, therefore, they must be clearly articulated and respected in all aspects of the activity.
2. Open and transparent communication: contributes to greater trust and collaboration within the team and to an improvement in relations with customers and other partners.
3. Mutual trust and respect: Fostering mutual trust and respect among employees and between employees and management can create a positive work environment and a supportive atmosphere that can encourage employees to develop their skills and get involved in the organization's activities.
4. Professional development opportunities: By providing employees with professional and personal development opportunities, such as training or mentoring programs, they improve their skills and fulfill their potential, which is beneficial for both the company and each individual's career.
5. Social responsibility: can be manifested by the organization's involvement in volunteer activities and projects that support the community, as well as by observing ethical and ecological standards in their business activities.
How do we recognize a toxic culture?
A toxic organizational culture is a situation where the values, practices and behaviors in a company are harmful to employees and can negatively affect their financial, physical, emotional and psychological well-being. Here are some characteristics that define a toxic organizational culture:
1. Bullying and Harassment: In a toxic organizational culture, employees may be subjected to bullying and harassment from peers or managers. This may include insults, intimidation, ostracism or other forms of verbal or physical abuse.
2. Excessive stress: A toxic organizational culture can create a stressful and stressful work environment where employees feel overwhelmed by workload, tight deadlines and pressure to meet targets, which can lead to physical and emotional burnout. and may adversely affect the health of employees.
3. Lack of support and communication: In a toxic organizational culture, employees can be left to work and fend for themselves without support or feedback from managers or peers. This creates an atmosphere of isolation and leads to frustration and demotivation.
4. Conflict and excessive competitiveness: A toxic organizational culture encourages attitudes of excessive competition and conflict among employees. Thus, the lack of collaboration and support between teams is exacerbated and employee productivity and morale can be negatively affected.
5. Discrimination and unequal treatment: In a toxic organizational culture, employees may be discriminated against because of race, gender, sexual orientation, or other personal characteristics. Thus, the feeling of insecurity and injustice sets in, which negatively affects the recruitment and retention of talent as well.
How can Co-Factor help you to build an employee-centric culture ?
The Co-Factor platform was built with the employee in mind. It provides the employer with a complex but intuitive tool, with which it can support the employee constantly, even from the first day of work. The platform has three built-in modules, which can be activated simultaneously or separately, depending on the company's needs.
Thus, the Internal Communication module facilitates permanent contact between colleagues, by encouraging an open, transparent and relevant communication for each, by promoting a dialogue and from the bottom up, not just from the top down, by encouraging common activities or hobbies and in outside the workplace. The same module has integrated an entire area dedicated to public appreciation and recognition of employee successes, which we consider extremely important. Through this interface, short surveys can be launched to take the pulse of the entire organization, to find out how they feel, what motivates them and how management can help them create a balance between their personal and professional lives, for example.
On the other hand, the Employee Engagement module allows the launch of engagement initiatives, which act as a stimulator to increase the energy and degree of involvement of the entire team. The Performance Management module naturally complements the support of employees in achieving the objectives, because it allows the definition of the development plan and the highlighting of promotion opportunities.