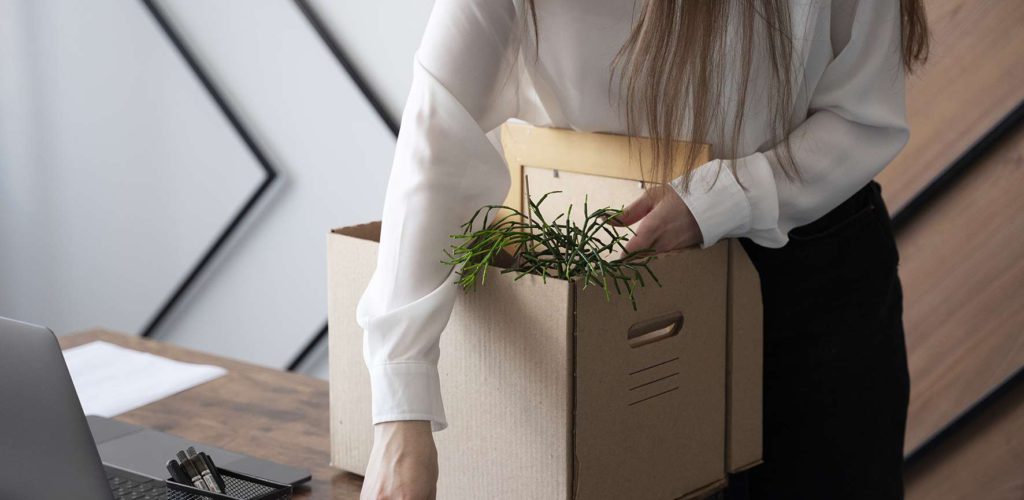 After a period of stagnation, staff turnover is accentuated as an important trend in 2023 as well. In this context, employee retention is a crucial aspect, on which the success of any company depends. Retaining talent is becoming an increasingly difficult task, as employees are much more active on the labor market and more willing to make a professional change, encouraged by the hybrid way of working.
When discussing the retention rate, it is no longer enough to look at the problem only in terms of its economic formula. The causes must be investigated from the perspective of human resources management, a broader, deeper and more integrative perspective, which we encourage, because it considers not only macro-organizational aspects, but, above all, looks at employees as custodians of the company's success. Solutions must also be practical, easy to implement and ideally within a realistic budget.
The most relevant classification of the directions in which action can be taken is centered on the concept of well-being. Each of the five dimensions of this concept, highlighted below, is a major factor in employees' decision to leave or remain loyal to a company.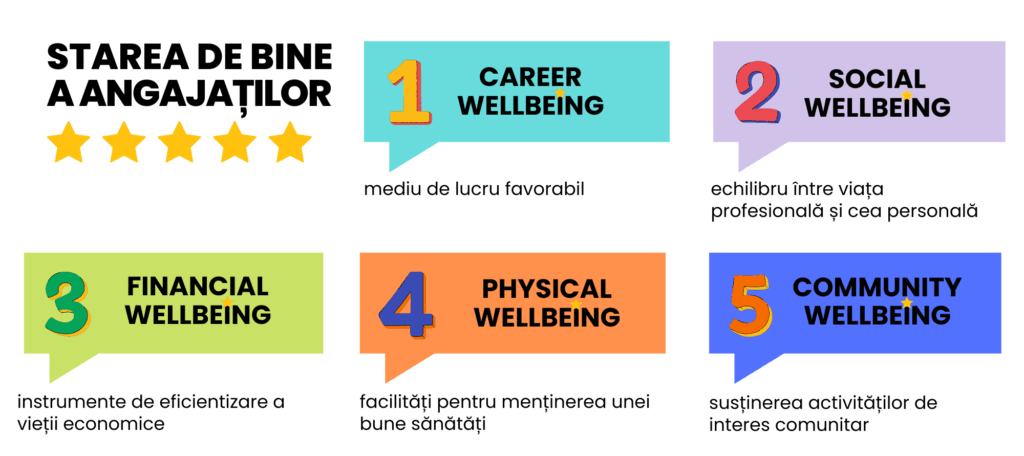 The most common causes of staff turnover
The first step to improving employee turnover is to identify its causes. We have compiled a short list of the most common reasons why employees decide to leave a company, hoping that it will help you navigate your own analysis more easily:
1. Lack of opportunities for development and career growth
Employees want to develop their skills and advance their careers. If their workplace does not offer them opportunities for development, they may be tempted to look elsewhere.
2. Conflict at work
It can be a serious reason why employees decide to leave. If there is no open and transparent communication, a positive working atmosphere, employees may feel insecure, stressed or unappreciated.
3. Insufficient or insufficiently communicated benefits
Money and employee engagement go hand in hand, proving that employees who are not engaged at work would leave the company even for a competing offer of just a 5% raise.
4. Change of geographic location or work schedule
Sometimes employees have to move or change their work schedule. If flexible solutions cannot be found in the company, they are tempted to resign.
5. Poor management
The lack of effective management, a coherent strategy or transparency in communication can demotivate employees and cause them to look for other opportunities elsewhere.
Here are just a few of the reasons why employees decide to leave a company. It is important for companies to identify the causes of turnover in time and implement, based on them, customized strategies to improve the situation and retain loyal employees.
Strategies to increase the retention rate
In order to solve the problem of staff turnover, these strategies must have as their starting point the insights collected in the organization, directly from the source, through polls or direct meetings and discussions with employees, which may take place on occasion their performance evaluation or feedback sessions.
1. Improving the working environment
A positive, performance-friendly work environment that provides opportunities for development and career growth can be an important factor in retaining employees. Thus, the company could invest in employee development and professional counseling programs, training and coaching sessions, but also in various employee involvement, recognition and appreciation programs.
2. Promoting balance between personal and professional life
Another important strategy to retain staff is to promote a healthy work-life balance. This may include measures such as flexible hours, telecommuting, facilities for employees' families or additional paid days off. or wellness programs.
3. Offering an attractive benefits package
A competitive benefits package is a decisive factor in retaining employees. Thus, the company could offer benefits that meet the needs of financial and physical well-being, such as financial education workshops, discounts at service providers, mobility packages (mobile phone, laptop, transport subscriptions), respectively medical insurance, plans pensions, mental health care programs, gym memberships and more. These packages must be communicated through dedicated channels, to ensure their good reception.
4. Transparent and open communication
Transparent and open communication with employees can help increase their level of trust and engagement. Managers can hold regular meetings with employees to discuss their issues and concerns and answer questions in the form of one-on-one feedback sessions. Also, an important component of communication is social. Encouraging interactions between colleagues, facilitating them by organizing extra-professional activities such as parties, trips, cultural outings or even setting up spaces, in the company premises, where employees can come together to socialize over coffee or tea, all they encourage communication.
5. Continuous evaluation of employee satisfaction
In order to identify the problems and needs of the employees, the company can carry out periodic surveys in order to assess their satisfaction and level of involvement. Based on the results, specific measures can be implemented to improve the situation.
These are just a few strategic directions that we suggest, the effectiveness of which has been proven over time. It is important for each organization to identify the best tactics for its particular situation and adapt them to its needs and values. This task can be made easier by integrating innovative tools, which Co-Factor makes available to companies through its digital platform.
How can Co-Factor help?
The Co-Factor platform was built with the employee in mind. It provides the employer with a complex but intuitive tool, with which it can support the employee constantly, even from the first day of work. The platform has three built-in modules, which can be activated simultaneously or separately, depending on the company's needs.
Thus, the Internal Communication module facilitates permanent contact between colleagues, by encouraging an open, transparent and relevant communication for each, by promoting a dialogue and from the bottom up, not just from the top down, by encouraging common activities or hobbies and in outside the workplace. The same module has integrated an entire area dedicated to public appreciation and recognition of employee successes, which we consider extremely important. Through this interface, short surveys can be launched to take the pulse of the entire organization, to find out how they feel, what motivates them and how management can help them create a balance between their personal and professional lives, for example.
On the other hand, the Employee Involvement module allows the launch of engagement initiatives, which act as a stimulator to increase the energy and degree of involvement of the entire team. The Performance Management module naturally complements the support of employees in achieving the objectives, because it allows the definition of the development plan and the highlighting of promotion opportunities.
Image by Freepik.